It's time to start gearing up for football parties and tailgating! We're always looking for quick, easy and yummy recipes to bring with us, so we had to share a few that Michelle loves!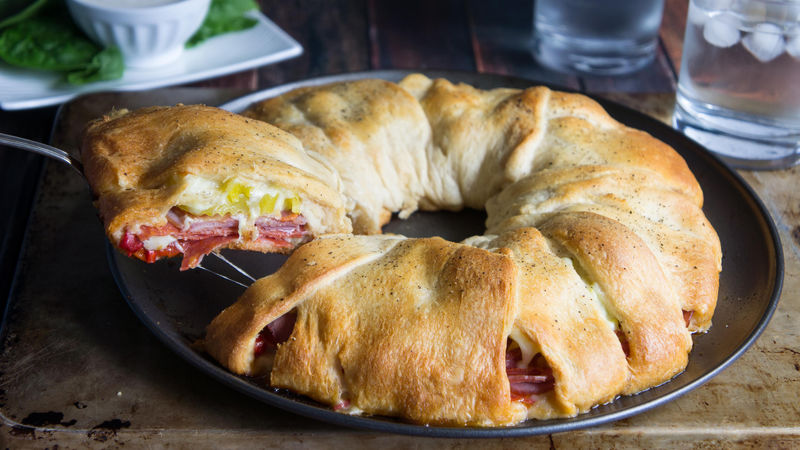 Ingredients
2 cans (8 oz each) Pillsbury™ refrigerated crescent dinner rolls
½ cup well drained roasted red bell peppers (from a jar)
8 slices provolone cheese, halved
1/3 lb deli sliced hot salami
¼ lb deli sliced ham
¼ lb deli sliced capocollo
½ cup well drained hot pepper rings (from a jar)
Steps:
Heat oven to 375°F (350°F for dark or nonstick cooking sheet).
Unroll both cans of dough; separate into 8 rectangles. On ungreased 12-inch pizza pan, arrange rectangles in ring so short sides of rectangles form a circle in center. (Dough will overlap; half of each rectangle will hang over edge of pan. Dough ring should look like a sun.)
Spread roasted red bell peppers toward center of ring on bottom halves of rectangles. Top with half of the cheese. Layer salami, ham and capocollo slices over cheese. Arrange pepper rings over top. Cover with remaining half of cheese.
Bring each dough rectangle hanging over side of pan up over stacked filling, tucking dough under bottom layer of dough to secure it. Repeat around sandwich until entire filling is enclosed (some filling might show a little). Sprinkle with black pepper.
Bake 18 to 22 minutes or until dough is golden brown and thoroughly baked. Cool 5 to 10 minutes before cutting into serving slices.